The Rocky Mountain Showdown's 88th battle is just days away and with it comes the preview by yours truly. Many CSU fans will hate on anything I predict, but all I can say in response with deep sincerity is: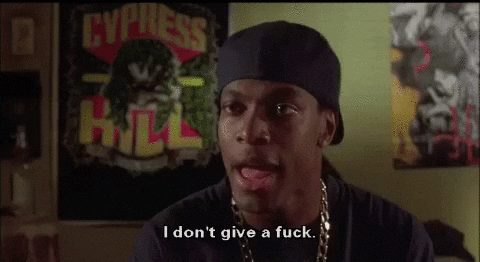 And on that note, let's take a detailed look at the school's headed into this Showdown.
Student Section
It's the annual test of whose student section can scream louder when on the jumbotron. CSUs has a distinct advantage being in front of the highest area of the stadium where their screams for being on camera can get trapped in _____ @ Mile High Stadium while CUs student section is at the top of the South stands with emptiness behind them or at most a scoreboard. It always sounds like CSU students care more and maybe they do, because this seems to be the game where each student section is more filled than either stadium can get on a regular basis. CUs freshman may have the advantage of living on campus and a close walk but the trip to Folsom for many is no different than the trip to Hughes for many. It is laughable that less than a five mile trip is so difficult for students that can somehow make a trek of 40 minutes to an hour and a half down to _____ @ Mile High Stadium. Due to the noise advantage...
Advantage: CSU
Fan Section
This is a very tough call. Both CU and CSU fans bitch about this game location but for every 1 regular season ticket holder of CSU that doesn't show, there are 3 CU fans that don't show. CU season ticket holders said Hell No to the Denver game in Droves with roughly 30% forgoing their RMS tickets for tickets to a future CU home game at Folsom. It showed in the final totals when CUs ticket sales were the closest they had been with CSUs in some time. Let's be honest, CSU fans go ape shit over anything that happens in this game and momentum swings their way thinking I can't wait to talk shit to my CU friend/enemy, co-worker, etc. while CU fans are just praying the whole game they don't have to endear a full calendar year of CSU fans puffing their chest out. Look at this year, CSU fans have come out of the woodworks the last month and are still doing so despite losing in 2015.
Advantage: CSU
Coaching
Despite the praising of Mike Bobo as the next SEC star, the simple fact is the Rams finished 7-6 in an average conference despite a fairly experienced team minus the quarterback position and him in his first head coaching gig.
Mike MacIntyre is a shit coach that won't last through 2016 is what 95% of CSU fans will say and about 40% of CU fans. If he loses this game, I will join that rhetoric. However (spoiler alert) that will not be happening.
Bobo done a great job closing out the 2015 season. MacIntyre is in a prove it year with everything on the line. Bobo is in a position to move up the coaching ranks if he can get CU to the crazy 9-10 Wins some delusional fans speak of. Both are solid coaches that are in different situations and will do everything to get their team to win.
Both have solid staffs with MacIntyre trimming the fat and CSU continually getting the most out of their players. Marty English is a solid DC but their is a reason Bobo went and got a better DC last year in Tyson Summers.
Advantage: Push
CSU Run Offense vs. CU Run Defense
Colorado State has ran for 484 yards or an average of 242 yards per game the past two Rocky Mountain Showdowns. They have ran at will and dominated CU at the line of scrimmage repeatedly. CSUs strength lies in their running game. There is no ifs, and or butts about it that CSU has to win this battle to win this game and as last year proved, that still may not be enough. The Rams return four starters along their offensive line along with my personal Public Enemy Number 1 in Paul Thurston, a local kid that decided to spend his first 4 years of eligibility in hell, aka Lincoln, Nebraska with the devil Cornhuskers and joined the devil's best friend CSU as a graduate transfer. Their front line consists of (3)-5 year Senior and (2)-4 year juniors.

CSUs solid front blocks for a very solid 1-2 punch in backs Dalyn Dawkins and Izzy Matthews. Dawkins is CSUs biggest threat and had two gains of 35+ yards last year in putting nearly 180 all purpose yards on the Buffs last year. Matthews did not play on offense versus the Buffs but had a very solid ending to the 2015 season and is a threat.

The Colorado Buffaloes defensive front has been beat up by CSU the last two years. The Buffs do welcome back stonehenge Nose Tackle Josh Tupou and two senior 5-technique 3-4 Defensive Ends in Jordan Carrell and Samson Kafolvalu. This will be the largest starting defensive line the Rams face in the Buffs base package. While the Buffaloes typically are a 3-3-5 Nickel defense, the Buffs will most likely play a ton of their base 3-4 package against the ground attack heavy Rams. The linebacker group for the Buffs is an experienced group with 4 guys that are Juniors/Seniors if Addison Gillam is on the field. The fact is Gillam was the X-factor in the 2013 Rocky Mountain Showdown and was able to beat CSU sideline to sideline. He played sick and underweight in 2014 and looked unprepared and then was out of the line-up by the time the 2015 Season came along. Rick Gamboa returns as the Buffs leading tackler but his speed covering beyond the middle 4 gaps left a lot to be desired in 2015.
Advantage:CSU

CSU Pass Offense vs. CU Pass Defense
Colorado State returns Nick Stevens at quarterback with a very talented true freshman that Coach Bobo is threatening CU with and veteran Georgia grad transfer Faton Bauta. Smart money has Stevens starting since he was steady Eddy in 2015. His biggest issue is his leading wide receiver is back-up Xavier Williams with only 19 receptions for 231 yards. His starters at WR, Flanker and TE have career highs of 2 receptions for 20 yards as the best returning starting receiver. It is a simple shit show with talks of drops and a lack of talent after losing Joe Hansley and Rashad Higgins to the NFL.
Colorado's defensive strength rests in their secondary. Chidobe Awuzie is a potential first two day NFL prospect at cornerback and safety Tedric Thompson has received extensive accolades tabbing him a low all conference selection and low round draft pick potential. The Buffs return Rifle High School and former walk-on back to the starting roll at Free Safety after a moped incident ended his 2015 campaign short. Moeller reminds me of one of my favorite Buffs of all-time in Steven Rosga playing with a reckless abandonment for his body. The only non-starter returning is cornerback Isaiah Oliver whom will split playing time with Ahkello Witherspoon. Witherspoon saw the field frequently for the Buffs while Oliver saw it in a more limited roll. However you slice it, CUs pass defense is considered to be an asset.
Advantage: CU

CU Run Offense vs. CSU Run Defense
The Buffs have averaged around 130 yards a game the last two years and over 110 yards less than the Rams do. While the incorporation of some of Texas Tech offensive concepts from Darrin Chiaverini will be seen in CUs offense ran over the last 3 years under Brian Lindgren, the simple fact is the Buffs have focused on exposing the secondary of the Rams. In 2014 it destroyed the Buffs when they couldn't sustain long drives and let CSU repeatedly take advantage. The Buffs have a solid RB coprs with Phillip Lindsay leading the group. Donovan Lee converts to tailback after a stint at the Slash roll in 2015 and a group of 3 other talented back. The line does have an indeterminate grade for their offensive line. The Buffs return RS-Junior Jeromy Irwin at Left Tackle and talented RS-Frosh Timmy Lynott. Alex Kelley anchors the offensive line in his third year as a starter. All that said, this group starts a senior and three juniors with significant playing time.
Colorado State's run defense strength resides in linebackers Josh Watson and Kevin Davis. Beyond those two, the Rams will trot out four new defensive starters with the group having a combined total of 32 tackles in 2015.
Advantage: CU slight lean
CU Pass Offense vs. CSU Pass Defense
The Buffs lose record holder Nelson Spruce at Wide Receiver but return junior Shay Fields, whom was a USC commit before flipping to CU, along with Bryce Bobo and Devin Ross. The Buffs lost talented grad transfer, Juwan Winfree, to a devastating season ending ACL tear but add talented JUCO transfer Kabian Ento, man child true freshman Johnny Huntley and his South Plantation High School teammate Tony Julmisse. Julmisse will mainly see playing time on defense but his talent will most likely allow for a package of offensive plays. The ultimate decision in how great this Buffs team is much criticized quarterback, Sefo Liufau. Liufau has bit his lip trying to help stir the Buffs into contention. His season ended last year with a heartbreaking Lisfranc injury, but appears to be at 100%. Love it or hate it, Sefo's performance will be meausre againt Cal quarterback and CU cock tease, Davis Webb. Webb pulled a Cushman on the Buffs and chose the other guy. But Sefo is in Year 4 as a starter, has his most experienced group around him and should be improved.
The Buffs also have the benefit of going against a defensive secondary that starts converted wide receiver at cornerback in Jordon Vaden. The remainder fo the group has Tyree Simmons who appears to be the Rams best member of the secondary. That said, their starting 11 consists of an average of a junior. Still, the Rams have not had to face a pass offense like the Buffs in practice and will have to do something they have not done much of, cause turnovers.
Advnatage: CU
As the warm fuzzy feeling Rams fans had before the last three groups, there is more to it, SPECIAL TEAMS.
CSU vs CU Special Team Units
There is little question CSU has a stud at punter in Hayden Hunt whom is a Ray Guy finalist and finished among the finalists in 2015. That said, the Buffs Alex Kinney continued to show marked improvement as 2015 wore on and will continue the solid line of CU punters.
At Kicker, both teams return kickers that left a lot to be desired in both the 2015 season and 2015 Rocky Mountain showdown missing key detailing record.
Coverage units and big returns always tend to favor CSU.
Advantage: CSU lean
Variables/Miscellaneous
The Buffs have a lot to lose in this game. Without a win their bowl game aspirations are most likely over. Colorado State still has their main priorities/goals ahead of them if they lose in making a bowl game and challenging for a MWC title.
Colorado is currently around an 8 point favorite. Their average margin of victory has been 15.3 points while the game is played in Denver. Minus the late 1990 games in Denver, CSU has an average margin of victory of 6.4 points while CUs are 13.75 point.
The game has seen 8 of 15 Denver games have been decided by two touchdowns or more with 6 of those 8 games going to CU. CSU holds a 4-3 advantage if the game is decided by a touchdown or less with 6 of those 7 games decided by 5 points or less.
Colorado has over 50 Juniors and Seniors combined which is their largest upperclassmen group since CU destroyed CSU 41-17 in 2001 a year after CU had gone 3-8 and many teams left them for dead. In 2001, they would go on to win the Big XII Championship.
Advantage: CU
Colorado has the most experienced team they have had in many years. CSU has their least experienced team since Colorado beat them in 2013. Colorado is playing as an upperclassmen group trying to cement their legacy like Bill McCartney's team in his 4th season going from 1-10 to 7-5 despite the questions and snickering of many that had counted them out. Colorado's on The Rise and it starts September 2nd with an old fashioned ass kicking over the Rams. It sounds right and I am not coming off my previous prediction, Buffs 41-Rams 20. Go drink some Ram piss and cry back to Fort Collins Lambies!